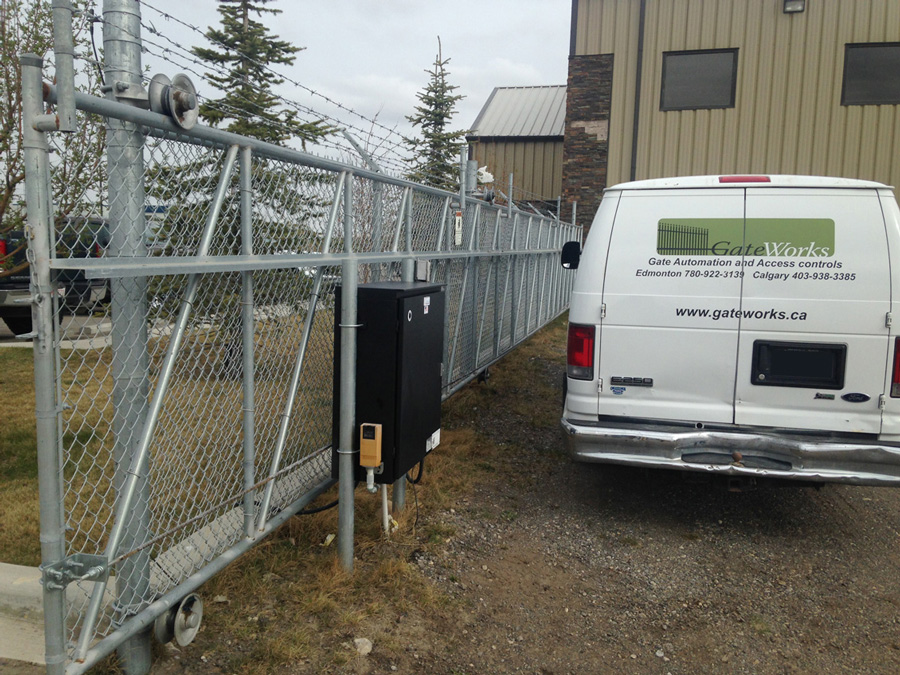 GateWorks has proudly served residential, commercial and industrial clients since 2000. We collaborate with our clients to provide custom solutions for gates, gate automation systems, access controls, safety devices and security cameras. Whether you are looking for a large custom design or something more economical, we have the expertise and knowledge to help you build the gate you need.
Our portfolio extends beyond traditional chain link gates to custom designed, specialty gates – slide gates, swing gates, barrier arm gates, high security, high volume, bollards and wedges – we do it all. We've built gate automation systems for correctional facilities, oilfields, estate owners and fire departments – to name just a few.
The GateWorks team believes in tailoring solutions to each of our client's needs. Our friendly, certified staff will work with you to provide a system that gives you the peace of mind and added security of knowing your gate works – on your budget and with your aesthetic preferences in mind.
Our qualified and experienced team is able to service all makes and models of equipment – even if we didn't install it.
Safety
As well as factory training, our technicians also receive safety and site specific training.
Standard First Aid

CSTS - Construction Safety Training System

WHMIS
H2S Alive
Safe Trenching and ground Disturbance
Fire Protection
Daily Vehicle & Equipment Inspections
Daily Site Specific Hazard Assessments
Daily Toolbox Safety Meetings
Consultation and Project Design
In addition to our install, preventative maintenance and repair services GateWorks offers consultation and project design. Our Sales team stays current with new technologies and equipment to help you design a gate system to meet your needs today and be flexible enough for tomorrow. Design of your gate system is crucial before a shovel goes into the ground. We can walk through the functionality, performance and longevity of your system to eliminate unnecessary costs of repair or adjustments at a later date. Ask GateWorks to assist with your commercial or residential project design, product selection, project management and project estimation.
GateWorks is privately owned and operated. We have worked from Vancouver Island, all the way to Manitoba and in Ontario we provide service and preventative maintenance.
We have two offices located in Calgary and Edmonton.